OUTDOOR LIVING: Live Better, Feel Better…by Design

BIKING MAKES YOU SMARTER!
Everyone knows that regular exercise is necessary to maintain good health. But did you know that it's been scientifically proven that biking regularly can boost brain power?
In a recent clinical study, scientists concluded that people scored higher on tests of memory, reasoning, and planning after 30 minutes of spinning than they did before they rode.
@BIKEMONTH EVENTS LIST HERE
FYI: Wearing a bicycle helmet can reduce the risk of a brain injury by 88%.
By Selene Yeager, www.bicycling.com
GROW YOUR MIND
Exercise is like fertilizer for your brain. All those hours spent turning your cranks create rich capillary beds not only in your quads and glutes, but also in your gray matter. More blood vessels in your brain and muscles mean more oxygen and nutrients to help them work, says Christie.
Download the GTA & Hamilton Waterfront Trail map – it's amazing!
When you pedal, you also force more nerve cells to fire. As these neurons light up, they intensify the creation of proteins like brain-derived neurotrophic factor (BDNF) and a compound called noggin (yes, really), which promote the formation of new brain cells. The result: You double or triple the production of neurons—literally building your brain, says Christie. You also release neurotransmitters (the messengers between your brain cells) so all those cells, new and old, can communicate with each other for better, faster functioning. That's a pretty profound benefit to cyclists.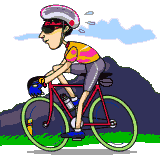 This kind of growth is especially important with each passing birthday, because as we age, our brains shrink and those connections weaken. Exercise restores and protects the organ, says Arthur Kramer, PhD, a neuroscientist at the University of Illinois at Urbana-Champaign. "Our research finds that after only three months, people who exercised had the brain volume of those three years younger," says Kramer, referring to a study that examined the brains of 59 sedentary volunteers between the ages of 60 and 79 who either did an exercise program or were inactive for six months.
A bigger, more connected brain simply works better. "Adults who exercise display sharper memory skills, higher concentration levels, more fluid thinking, and greater problem-solving ability than those who are sedentary," says Kramer.
Positive Spin
Of course, there's a lot more to mental fitness than just improving your smarts. Plenty of science backs the idea that a good ride can also have emotional benefits. Cycling can elevate your mood, relieve anxiety, increase stress resistance, and even banish the blues.
"Exercise works as well as psychotherapy and antidepressants in the treatment of depression, maybe better," says James Blumenthal, PhD, professor of behavioral medicine in the department of psychiatry and behavioral sciences at Duke University in Durham, North Carolina. A recent study analyzing 26 years of research finds that even just some exercise—as little as 20 to 30 minutes a day—can prevent depression over the long term.
At the moment, scientists don't completely understand the exact mechanisms, but they do know that one of the benefits of cycling is that it boosts the production of feel-good chemicals such as serotonin and dopamine. "As soon as our lab rats start running on their wheels, they get a 100 to 200 percent increase in serotonin levels," says J. David Glass, PhD, a brain-chemistry researcher at Kent State University in Kent, Ohio.